Features of Fibracell Reeds:
Why does Fibracell sound so good? Because it's not plastic and it's not cane. It's the most highly developed composite structure ever engineered for woodwinds!
With Fibracell You Get:
The same "woody" tone as cane but with better sound projection.
A reed that is great for doublers because it does not require soaking.
A reed that is playable in all weather conditions, not affected by heat or humidity.
A reed that does not swell, warp or soften when wet.
A reed that lasts up to six times longer than cane with no unplayable reeds, making it less expensive to use than cane.
Quick response for better articulation, excellent pitch stability and intonation in all ranges, even for the clarinet.
Brilliant overtones for a full, vibrant, resonant tone.
A reed with the same weight and stiffness as cane - cane floats and so does Fibracell (try that with a plastic reed!)
A reed that keeps its shape and retains resiliency longer than cane.
Outstanding durability, due to a bonded film on the bottom that helps resist tip splitting.
A product that is made in the USA, by a former music educator.
What You Don't Get Is: cane's inconsistent quality and short life.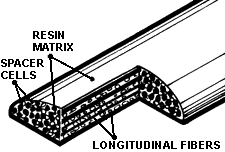 Description of Fibracell:
Fibracell studied natural cane reed material under a microscope and used the most advanced fibers and composites from the aerospace industry to exactly duplicate the properties of natural cane reed material. Very stiff but sound absorbing Kevlar fibers are suspended in a lightweight resin formulation. It took the inventor, David W. Shaffer, over a decade of research to get the numbers of fibers, spacing, density of matrix, position of voids and other variables just right, but it was worth it.

Fibracell is manufactured to exacting production standards and is precisely machined and trimmed for a consistently perfect shape.

Experts in the fields of both music and manufacturing Fibracell have spent many years perfecting the formulas and processes used to make Fibracell reed material and to shape it into reeds that play the way musicians have always wanted but only rarely found in natural cane.

In short, Fibracell is the epitome of consistency and quality. To the musician, that means a reed that won't let you down.
Technical Aspects of Fibracell
What Is Fibracell?
Fibracell material is a sophisticated composite of aerospace materials designed to exactly duplicate the way nature constructs cane reed. Very stiff but sound absorbing Kevlar fibers are suspended in a lightweight resin formulation.

Fibracell composite reed material is the result of years of research and development, conceptualizing and augmenting state-of-the-art materials. The result is a composite material, which has characteristics comparable to natural cane reed in the following respects:
Stiffness
Specific Gravity
Decay Factor
Overtones or "Voice"
Stiffness-to-weight ratio
Color and appearance
It is the unique combination of the above properties that allows the natural cane reed to vibrate with a rich tonal quality. These qualities are emulated in Fibracell's unique composite structure with the additional features of strength, long lasting durability and a consistency of quality not found in nature.
Visual Features:
The visual similarity of Fibracell to cane, even with a microscope, is remarkable because it's color and cross-section structure are almost identical in appearance to cane. Thus, the claim can accurately be made "It plays like cane because it's made like cane. Only stronger!" Fibracell reeds can quickly be distinguished from all other artificial reeds by a "float test". Drop a handful of plastic, cane and Fibracell reeds in a glass of water. Only the cane and Fibracell reeds will float. The plastic reeds will sink to the bottom. This demonstrates the similarity in density and specific gravity between natural cane and Fibracell material as opposed to the more dense plastic. The lightness of cane and Fibracell is important for high note stability and the formation of correct overtones.

Production:
Fibracell is manufactured in a process that includes over ten production, machining and quality control operations, as opposed to simple injection molding like most plastic reeds. The materials used to produce the raw material are sophisticated and relatively expensive. The equipment used to produce it is extremely sensitive and complicated. Many factors contribute to its quality.

Once the material is produced, making reeds from it is done in almost exactly the same way cane reeds are produced with all the same cutting, milling, shaping, trimming and testing steps. In other words, the Fibracell reed is the result of a combination of expensive, sophisticated materials, many years of research and a labor intensive manufacturing and quality control process.