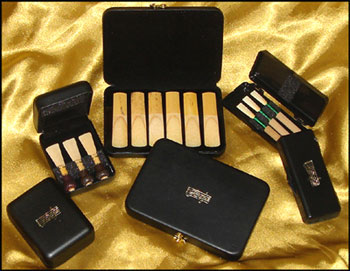 Hodge Single and Double Reed Cases
For Current Information please see the Hodge Website hodgeproductsinc.com
Description
Image
Alto Saxophone and Clarinet
This professionally designed leatherette reed case holds either six Alto Saxophone reeds or seven Bb Clarinet reeds or a combination of both. The reeds sit on a flat acrylic sheet on which the reeds dry so they don't warp. The velvet covered foam peice that fills the lid holds the reeds in place when the case is closed. The reeds slide out the front of the open case for removal.
Oboe
Holds a total of three Reeds
Made with a foam reed holder, this case is the right size to fit in the reed case slot of an oboe case.
Bassoon
Holds a total of three Reeds
Imitation leather with foam reed holder and jewelry-style spring hinge.